This page is specifically about the The Slormancer cheat, for the page about the loader, click here.
You can download The Slormancer here.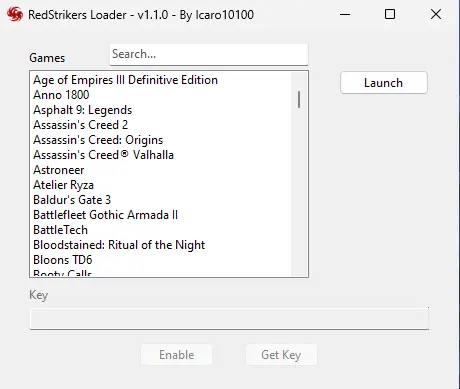 Index
The Slormancer
Fight hordes of enemies led by The Slormancer, an evil warlock from the past, in an absurd yet epic Action RPG! Featuring loads of shiny loot, tons of collectibles, countless hours of content, a frenetic gameplay and carefully crafted pixel art.
Purchase key and Download
You can cancel your subscription at any time by clicking here.
Your key will be sent automatically to your email after completing the payment, check your spam folder.
Refund Policy: You can ask for a full refund within 72 hours of purchasing for any reason. Limited to 1 refund per client.
You will be able to use all cheats for all games in the loader for one month.
Credit/Debit Card or Crypto (BTC, USDT, ETH etc) payments are supported.
Price: $10 USD - Valid for 1 Month
Free Trial
You can request a free trial key that will be valid for two hours. Simply enter your email below and press the button, it has to be a GMAIL email address.
Functions
Life Max
Life Current
Life Regeneration
Life Leech
Life on Hit
Life on Kill
Mana Max
Mana Current
Mana Regeneration
Mana Leech
Mana on Hit
Mana on Kill
Movement Speed
Attack Speed
Raw Damage Min
Raw Damage Max
Reaper Damage Min
Reaper Damage Max
Elemental Damage Min
Elemental Damage Max
Critical Strike Chance
Critical Strike Damage
Ancestral Strike Chance
Ancestral Strike Damage
Armor Penetration
Elemental Penetration
Damage Over Time
Damage to Elites
Armor
Elemental Resistance
Fire Resistance
Ice Resistance
Lightning Resistance
Light Resistance
Shadow Resistance
Evasion
Thorns Damage
Retaliation
Tenacity
All Damage Reduction
Elite Damage Reduction
Melee Damage Reduction
Projectile Damage Reduction
Area Damage Reduction
Goldus Find
Fragments Find
Slormites Find
Slormandrites Find
Reapers Find
Reaper Experience Gain
Skill Mastery Gain
Inner Fire Chance
Inner Fire Max Charges
Inner Fire Duration
Inner Fire Damage
Overdrive Chance
Overdrive Bounce Number
Overdrive Damage
Melee Recast Chance
Knockback on Melee
Additional Projectile
Pierce Chance
Fork Chance
Rebound Chance
Projectile Speed
Knockback on Projectile
Area Increased Size
Area Increased Effect
Totem Increased Damage
Aura Increased Effect
Minion Increased Damage
Currency/EXP
Inventory First Slot Quantity
Goldus
Slorm
Current Exp
Experience Required
Current Character Attributes
Toughness
Savagery
Fury
Determination
Zeal
Willpower
Dexterity
Bravery
Sprite ID Values
Game Shop/Loot Settings Pointers
Current Expedition Pointers
Environment Values
How to use
You might need to disable Windows Defender or other antivirus software before downloading.
Extract the zip file you have downloaded.
Run the loader as administrator.
Enter your key and click Enable.
The loader will be ready for use, select one of the available cheats and click launch.
Cheat Engine will be opened with the cheats loaded.
Run the game and wait until it fully loads.
On Cheat Engine, click the screen icon on the top left corner and select the game's process.
Everything will be ready for use, select the desired functions on Cheat Engine and play.