This page is specifically about the The Long Dark cheat, for the page about the loader, click here.
You can download The Long Dark here.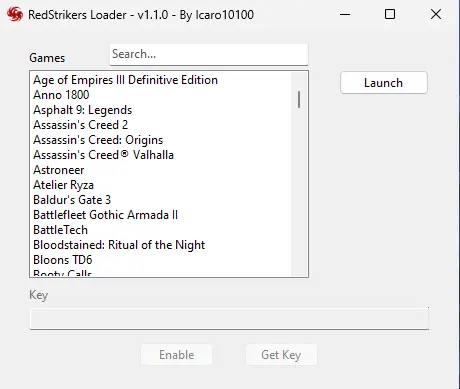 Index
The Long Dark
THE LONG DARK is a thoughtful, exploration-survival experience that challenges solo players to think for themselves as they explore an expansive frozen wilderness in the aftermath of a geomagnetic disaster. There are no zombies -- only you, the cold, and all the threats Mother Nature can muster.
Purchase key and Download
You can cancel your subscription at any time by clicking here.
Your key will be sent automatically to your email after completing the payment, check your spam folder.
Refund Policy: You can ask for a full refund within 72 hours of purchasing for any reason. Limited to 1 refund per client.
You will be able to use all cheats for all games in the loader for one month.
Credit/Debit Card or Crypto (BTC, USDT, ETH etc) payments are supported.
Price: $10 USD - Valid for 1 Month
Free Trial
You can request a free trial key that will be valid for two hours. Simply enter your email below and press the button, it has to be a GMAIL email address.
Functions
Force Indoor Spawn
Quick Level Skills
Quick Level Player Skills - Repair
Quick Level Player Skills - Clean
Quick Level Player Skills - Sharpen
Craft Anywhere
Placeanywhere
Fire Indoor
Disable Ai Scan
Force Clear Weather
Always Full Fuel Inlantern
Inf Charcoal in Survey
Map Options
No Encumber
Instant Search
Instant Open
Instant Craft
Instant Harvest
Instant Cook
Instant Break Down
Instant Eat
Instant ActionProgress
Instant CanOpening
Instant ForceLock
Fast Fire
Fast Survey
No Hunger
No Freezing
No Thirst
No Fatigue
Stamina
No Fall Damage
No Sprain Risk OnSlope
No Clothing Wetness
Easy Safe Crack
No Suffocation
No Degrade On Use
Over Weight To Container
No IceCrackingTrigger
ClimbRope Speed Up
Max Fire To 10000 Days
No Scent
No Movement Noise
Fly Mode
PlayerSpeed
Pickup Range
Item Pointer
Aurora On/Off
Survey Widely.
How to use
You might need to disable Windows Defender or other antivirus software before downloading.
Extract the zip file you have downloaded.
Run the loader as administrator.
Enter your key and click Enable.
The loader will be ready for use, select one of the available cheats and click launch.
Cheat Engine will be opened with the cheats loaded.
Run the game and wait until it fully loads.
On Cheat Engine, click the screen icon on the top left corner and select the game's process.
Everything will be ready for use, select the desired functions on Cheat Engine and play.