This page is specifically about the The Binding of Isaac: Rebirth cheat, for the page about the loader, click here.
You can download The Binding of Isaac: Rebirth here.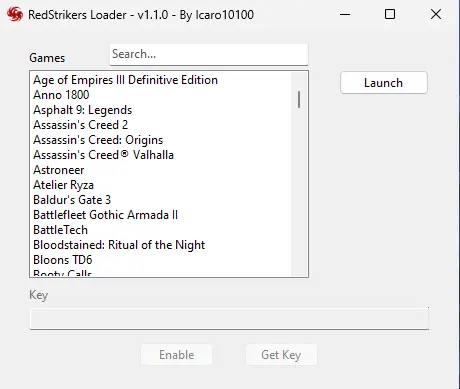 Index
The Binding of Isaac: Rebirth
The Binding of Isaac: Rebirth is a randomly generated action RPG shooter with heavy Rogue-like elements. Following Isaac on his journey players will find bizarre treasures that change Isaac's form giving him super human abilities and enabling him to fight off droves of mysterious creatures, discover secrets and fight his way to safety.
Purchase key and Download
You can cancel your subscription at any time by clicking here.
Your key will be sent automatically to your email after completing the payment, check your spam folder.
Refund Policy: You can ask for a full refund within 72 hours of purchasing for any reason. Limited to 1 refund per client.
You will be able to use all cheats for all games in the loader for one month.
Credit/Debit Card or Crypto (BTC, USDT, ETH etc) payments are supported.
Price: $10 USD - Valid for 1 Month
Free Trial
You can request a free trial key that will be valid for two hours. Simply enter your email below and press the button, it has to be a GMAIL email address.
Functions
God Mode
Undead Mode
Inf. Red Heart Container
Inf. Red Hearts
Inf. White Hearts
Inf. Blue Hearts
Inf. Black Hearts
Inf. Broken Hearts
Free Shop
Free Machine Usage
No Keys Required
No Bombs Required
Always 99 Keys
Always Golden Key
Always 99 Bombs
Always Golden Bomb
Always 99 Coins
No Bomb Use Delay
Inf. Item Charge (On Space)
No Item Consume
Change Item on Stone
Keep Stone Item From Getting Removed on Pickup (Leave Room & Come Back)
Spawn Random Items
Create New Item (Pointer Shortcut)
Free Machines
Set Coins of the Donation Automate to 999
Inf. Book of Shadows & Dark Arts Duration (And Maybe Others)
Fly Mode
Ghost Mode
No Delay Between Shots/Tears
High Projectile Speed
No Bullet Drop / High Firing Range
100% Damage
100% Luck
Fast Movement
One Hit Kill
Special Attack
No Laser Charge Up Time
Always Shoot
Higher Range
No Bone Charge Up Time
No Charge Up Time
What Ever 0
What Ever 1
What Ever 2
What Ever 3
What Ever 4
What Ever 5
What Ever 6
What Ever 7
Unlock All 637 Secrets
Disable Game Pause
Reveal Full Map
Open Doors
Open Secret Rooms
Teleport (Save/Load Co-ords | Tp Enteties)
Teleport to Random Room
Select Next Floor
Instant Win Greed Mode (10/10)
Instant Win Greedier Mode (11/11)
Set Score to 999999
Freeze Game Time
Inf. Eden Tokens
Sacrifice Room Related
[GridEntity_Spikes] (SacrificeCount)
Open Console (F1)
Debug Mode (Pointer Shortcut)
Game Mode (Pointer Shortcut)
Greed Mode Points (Pointer Shortcut)
Score (Pointer Shortcut)
[Entity_Player] (Most Pointer Are Updated)
[Entity_NPC]
[Game & Console]
[Savegame] (Eden Tokens | Donation Machine Coins | All 637 Secrets).
How to use
You might need to disable Windows Defender or other antivirus software before downloading.
Extract the zip file you have downloaded.
Run the loader as administrator.
Enter your key and click Enable.
The loader will be ready for use, select one of the available cheats and click launch.
Cheat Engine will be opened with the cheats loaded.
Run the game and wait until it fully loads.
On Cheat Engine, click the screen icon on the top left corner and select the game's process.
Everything will be ready for use, select the desired functions on Cheat Engine and play.