This page is specifically about the Sword and Fairy 7 cheat, for the page about the loader, click here.
You can download Sword and Fairy 7 here.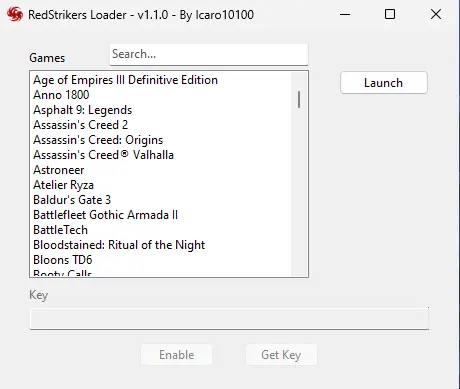 Index
Sword and Fairy 7
An action RPG based on Chinese art style, as the 7th lineal sequel of this series, it earns a lot of anicipations. Better gaming experience than any of its previous episode will be brought to all the players.
Purchase key and Download
You can cancel your subscription at any time by clicking here.
Your key will be sent automatically to your email after completing the payment, check your spam folder.
Refund Policy: You can ask for a full refund within 72 hours of purchasing for any reason. Limited to 1 refund per client.
You will be able to use all cheats for all games in the loader for one month.
Credit/Debit Card or Crypto (BTC, USDT, ETH etc) payments are supported.
Price: $10 USD - Valid for 1 Month
Free Trial
You can request a free trial key that will be valid for two hours. Simply enter your email below and press the button, it has to be a GMAIL email address.
Functions
PhysicalAtk.CurrentValue
PhysicalDef.CurrentValue
SpellAtk.CurrentValue
SpellDef.CurrentValue
CritChance.CurrentValue
CritDamageRate.CurrentValue
CritBreakDamageRate.CurrentValue
JointDamageRate.CurrentValue
PhysicalDamageTakenRatio.CurrentValue
SpellDamageTakenRatio.CurrentValue
EarthDamageTakenRatio.CurrentValue
WaterDamageTakenRatio.CurrentValue
FireDamageTakenRatio.CurrentValue
WindDamageTakenRatio.CurrentValue
LightningDamageTakenRatio.CurrentValue
MeleeDamageTakenRatio.CurrentValue
RangedDamageTakenRatio.CurrentValue
ReduceTargetPhysicalDefRatio.CurrentValue
ReduceTargetSpellDefRatio.CurrentValue
PhysicalDamageRatio.CurrentValue
SpellDamageRatio.CurrentValue
EarthDamageRatio.CurrentValue
WaterDamageRatio.CurrentValue
FireDamageRatio.CurrentValue
WindDamageRatio.CurrentValue
LightningDamageRatio.CurrentValue
MeleeDamageRatio.CurrentValue
RangedDamageRatio.CurrentValue
BreakSpeedRatio.CurrentValue
BreakDamageRatio.CurrentValue
JumpDamageRatio.CurrentValue
BodyDamageTakenRatio.CurrentValue
LegDamageTakenRatio.CurrentValue
HeadDamageTakenRatio.CurrentValue
PersonalShield.CurrentValue
DebuffResistChance.CurrentValue
AntiPoison.CurrentValue
AntiFrozen.CurrentValue
AntiStun.CurrentValue
AntiBurn.CurrentValue
AntiParalysis.CurrentValue
AbnormalStateDamageRatio.CurrentValue
DebuffApplyChanceAppend.CurrentValue
AgainstHitNotDieRatio.CurrentValue
BreakTime.CurrentValue
BreakGaugeSlowRecovery.CurrentValue
BreakGaugeMAX.CurrentValue
BreakGauge.CurrentValue
Toughness.CurrentValue
WalkSpeedRatio.CurrentValue
AwakenGauge.CurrentValue
AwakenGaugeMax.CurrentValue
FoodBuffValueRate.CurrentValue
RecoveryItemEffectRate.CurrentValue
ExpGainRate.CurrentValue
StealthRate.CurrentValue
How to use
You might need to disable Windows Defender or other antivirus software before downloading.
Extract the zip file you have downloaded.
Run the loader as administrator.
Enter your key and click Enable.
The loader will be ready for use, select one of the available cheats and click launch.
Cheat Engine will be opened with the cheats loaded.
Run the game and wait until it fully loads.
On Cheat Engine, click the screen icon on the top left corner and select the game's process.
Everything will be ready for use, select the desired functions on Cheat Engine and play.