This page is specifically about the Starship Troopers: Terran Command cheat, for the page about the loader, click here.
You can download Starship Troopers: Terran Command here.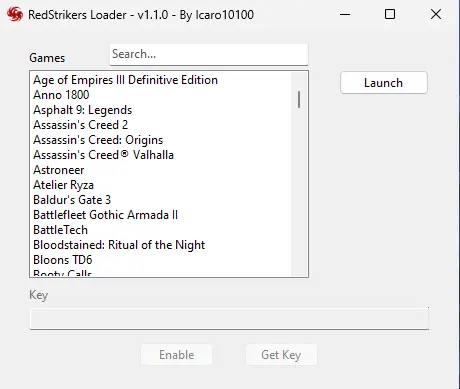 Index
Starship Troopers: Terran Command
Starship Troopers: Terran Command is a thrilling real-time strategy game set in the Starship Troopers movies universe. Take command of the Mobile Infantry and do your part in the war against the Arachnid threat. Ensure that human civilization, not insect, dominates the galaxy now and always!
Purchase key and Download
You can cancel your subscription at any time by clicking here.
Your key will be sent automatically to your email after completing the payment, check your spam folder.
Refund Policy: You can ask for a full refund within 72 hours of purchasing for any reason. Limited to 1 refund per client.
You will be able to use all cheats for all games in the loader for one month.
Credit/Debit Card or Crypto (BTC, USDT, ETH etc) payments are supported.
Price: $10 USD - Valid for 1 Month
Free Trial
You can request a free trial key that will be valid for two hours. Simply enter your email below and press the button, it has to be a GMAIL email address.
Functions
Camera Control
Battle Time Keeper
Unit Controls Ui Manager
Unit Experience Data
Debug Herper
Fog Of War
Hit Points [Health] 9999
Population Component & Dropships Component
Updated
Rev4
Debug Helper
Map Editor Save To Repository Folder?
Fast Start Dev?
Edge Scroll Disabled?
Little Rico Cheat Enabled?
Rico Cheat Enabled?
Max Recent Maps Count?
Rev3
Unit Experience Data
Level
Experience
Abilities [3]
Abilities [4]
Abilities [5]
Abilities [6]
Rev2
Alliance
Initial Dropship Count
Current Dropship Count
Population Component
Supply Current
Supply Cap
Supply Bonus
Support Current
Support Cap
Support Bonus
Dropships Component
Dropships Available
Dropships Cap
Recharge Timer
Options Cheat Table
Debug Cheat No Ability Cost
How to use
You might need to disable Windows Defender or other antivirus software before downloading.
Extract the zip file you have downloaded.
Run the loader as administrator.
Enter your key and click Enable.
The loader will be ready for use, select one of the available cheats and click launch.
Cheat Engine will be opened with the cheats loaded.
Run the game and wait until it fully loads.
On Cheat Engine, click the screen icon on the top left corner and select the game's process.
Everything will be ready for use, select the desired functions on Cheat Engine and play.