This page is specifically about the Sands of Salzaar cheat, for the page about the loader, click here.
You can download Sands of Salzaar here.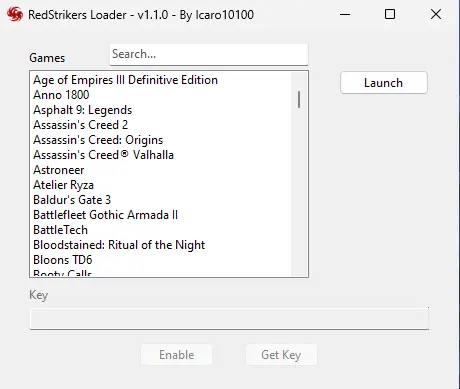 Index
Sands of Salzaar
Bringing you to an exotic desert where you'll recruit, train, and guide your troops into battle against rival cities and factions. Embark on an adventure that's uniquely yours; Customizable characters, professions, and factions. The land is filled with a variety of hidden secrets.
Purchase key and Download
You can cancel your subscription at any time by clicking here.
Your key will be sent automatically to your email after completing the payment, check your spam folder.
Refund Policy: You can ask for a full refund within 72 hours of purchasing for any reason. Limited to 1 refund per client.
You will be able to use all cheats for all games in the loader for one month.
Credit/Debit Card or Crypto (BTC, USDT, ETH etc) payments are supported.
Price: $10 USD - Valid for 1 Month
Free Trial
You can request a free trial key that will be valid for two hours. Simply enter your email below and press the button, it has to be a GMAIL email address.
Functions
No Skill Cooldown
OHKO
Set Movement Speed (Player + Allies)*
Stealth (Player Only)
Add Utar to Merchant
Combine Any Troop and Set Troop Number
Freeze Game Time
Infinite Item Durability
Infinite Legacy
Resources Multiplier
Infinite Skill
Utar Multiplier
Max Reputation
Movement Speed (Roaming)
No AI Call Reinforcement (Siege Battle)
No Arcane Cooldown
No Auto-Remove Expired Items
No Dungeon Cooldown
No Dungeon Preparation Time
No Hunger
No Siege Preparation Time
No Item Expiration Date
Quick Build/Upgrade
Free Crafting
No Return Scroll Cooldown
Override Teleport Point
Duplicate Item
Expand Character Slot**
Expand Troop Slot**
Expand Item Slot**
Diplomacy Status (Player Created Faction only)
Reputation Status
Item Status.
How to use
You might need to disable Windows Defender or other antivirus software before downloading.
Extract the zip file you have downloaded.
Run the loader as administrator.
Enter your key and click Enable.
The loader will be ready for use, select one of the available cheats and click launch.
Cheat Engine will be opened with the cheats loaded.
Run the game and wait until it fully loads.
On Cheat Engine, click the screen icon on the top left corner and select the game's process.
Everything will be ready for use, select the desired functions on Cheat Engine and play.