This page is specifically about the Persona 5 cheat, for the page about the loader, click here.
You can download Persona 5 here.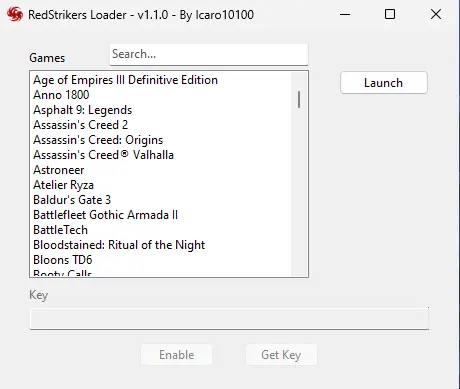 Index
Persona 5
Don the mask and join the Phantom Thieves of Hearts as they stage grand heists, infiltrate the minds of the corrupt, and make them change their ways!
Purchase key and Download
You can cancel your subscription at any time by clicking here.
Your key will be sent automatically to your email after completing the payment, check your spam folder.
Refund Policy: You can ask for a full refund within 72 hours of purchasing for any reason. Limited to 1 refund per client.
You will be able to use all cheats for all games in the loader for one month.
Credit/Debit Card or Crypto (BTC, USDT, ETH etc) payments are supported.
Price: $10 USD - Valid for 1 Month
Free Trial
You can request a free trial key that will be valid for two hours. Simply enter your email below and press the button, it has to be a GMAIL email address.
Functions
Counter
Counterstrike
High Counter
Endure
Enduring Soul
Survival Trick
Dodge Fire
Evade Fire
Dodge Ice
Evade Ice
Dodge Wind
Evade Wind
Dodge Elec
Evade Elec
Dodge Phys
Evade Phys
Fire Boost
Fire Amp
Ice Boost
Ice Amp
Wind Boost
Wind Amp
Elec Boost
Elec Amp
Angelic Grace ❤❤
Divine Grace
Regenerate 1
Regenerate 2
Regenerate 3
Dodge Bless
Dodge Curse
Invigorate 1
Invigorate 2
Invigorate 3
Evade Bless
Evade Curse
Attack Master
Auto-Mataru
Defense Master
Auto-Maraku
Speed Master
Auto-Masuku
Fast Heal
Insta-Heal
Arms Master
Spell Master
Sharp Student
Apt Pupil
Ali Dance
Firm Stance
Life Aid
Victory Cry
Growth 1
Growth 2
Growth 3
Unshaken Will
Baton Pass
Soul Touch
Kakoi Kuzushi
Resist Fire
Null Fire
Repel Fire
Drain Fire
Resist Ice
Null Ice
Repel Ice
Drain Ice
Resis Wind
Null Wind
Repel Wind
Drain Wind
Resist Elec
Null Elec
Repel Elec
Drain Elec
Resist Bless
Null Bless
Repel Bless
Drain Bless
Resist Curse
Null Curse
Repel Curse
Drain Curse
Resist Phys
Null Phys
Repel Phys
Drain Phys
Ailment Boost
Hama Boost
Mudo Boost
Dizzy Boost
Confuse Boost
Fear Boost
Forget Boost
Sleep Boost
Rage Boost
Despair Boost
Brainwash Boost
Resist Dizzy
Resist Confuse
Resist Fear
Resist Forget
Resist Sleep
Resist Rage
Resist Despair
Resist Brainwash
Null Dizzy
Null Confuse
Null Fear
Null Forget
Null Sleep
Null Rage
Null Despair
Null Brainwash
Burn Boost
Freeze Boost
Shock Boost
Fortified Moxy
Adverse Resolve
Last Stand
Heat Up
Touch n' Go
Climate Decorum
Ambient Aid
Mahama
Snipe
Cripple
Trigger Happy
Resist Nuke
Null Nuke
Repel Nuke
Drain Nuke
Resist Psy
Null Psy
Repel Psy
Drain Psy
Nuke Boost
Nuke Amp
Psy Boost
Psy Amp
Dodge Nuke
Evade Nuke
Dodge Psy
Evade Psy
Bless Boost
Bless Amp
Curse Boost
Curse Amp
Magic Ability
Fortify Spirit
Almight Boost
Almight Amp
Zenith Defens
How to use
You might need to disable Windows Defender or other antivirus software before downloading.
Extract the zip file you have downloaded.
Run the loader as administrator.
Enter your key and click Enable.
The loader will be ready for use, select one of the available cheats and click launch.
Cheat Engine will be opened with the cheats loaded.
Run the game and wait until it fully loads.
On Cheat Engine, click the screen icon on the top left corner and select the game's process.
Everything will be ready for use, select the desired functions on Cheat Engine and play.