This page is specifically about the No Man's Sky cheat, for the page about the loader, click here.
You can download No Man's Sky here.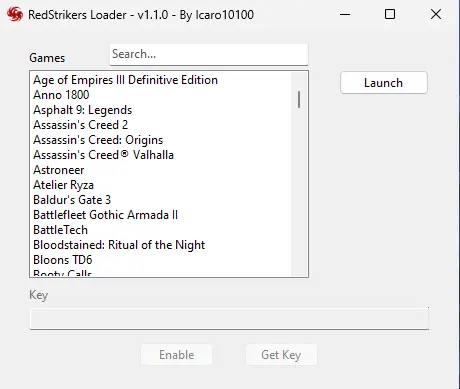 Index
No Man's Sky
No Man's Sky is a game about exploration and survival in an infinite procedurally generated universe.
Purchase key and Download
You can cancel your subscription at any time by clicking here.
Your key will be sent automatically to your email after completing the payment, check your spam folder.
Refund Policy: You can ask for a full refund within 72 hours of purchasing for any reason. Limited to 1 refund per client.
You will be able to use all cheats for all games in the loader for one month.
Credit/Debit Card or Crypto (BTC, USDT, ETH etc) payments are supported.
Price: $10 USD - Valid for 1 Month
Free Trial
You can request a free trial key that will be valid for two hours. Simply enter your email below and press the button, it has to be a GMAIL email address.
Functions
Infinite Health
Infinite Life Support
Inf Hazard Protection
Infinite Sprint
Infinite Jetpack
Infinite Ammo
Inf Scanner
Inf Grenades
Rapidfire Grenades
Set # Of Grenades Per Shot
Inf Blaze Javelin
Inf Mining Beam
Max Mining Laser Heat
Inf Terrain Manipulator
Element Gathering Multiplier
Damage Multiplier + OHK
Movement Mods
Infinite Launch Thruster
Infinite Pulse Engine
Infinite Hyperdrive
Infinite Deflector Shield
No Ship Overheat
No Rocket Launcher Overheat
Infinite Exocraft Boost
Infinite Exocraft Fusion Engine
Infinite Exocraft Mining Laser
Infinite Exocraft Cannon
Infinite Exocraft Jetpack
Craft/Build/Repair Dont Consume Items
Craft No Requirement
Build No Requirement
Repair No Requirement
Refiner Dont Consume Items
Inf Refill
Battery Inf Power
Instant Refinery
Build Anywhere
Get Max Item
Inf Buy Items
Stack Items Mod
Stack Technology
Copy Installed Technology When Moving It
Smart Split
Gathering Multiplier/ Craft a Stack
Inventory Size Unlocker/ Class Changer
Inventory List/ Stats
Wanted Level
Highlighted Item Pointers
Money Pointer
Inventory Slot Pointers
Bypass Attlas remembers
Bypass Locks
Summon Freighter Anywhere
Kill All Pirates
Universal Translator
No Pause On Loss Focus
How to use
You might need to disable Windows Defender or other antivirus software before downloading.
Extract the zip file you have downloaded.
Run the loader as administrator.
Enter your key and click Enable.
The loader will be ready for use, select one of the available cheats and click launch.
Cheat Engine will be opened with the cheats loaded.
Run the game and wait until it fully loads.
On Cheat Engine, click the screen icon on the top left corner and select the game's process.
Everything will be ready for use, select the desired functions on Cheat Engine and play.