This page is specifically about the Highfleet cheat, for the page about the loader, click here.
You can download Highfleet here.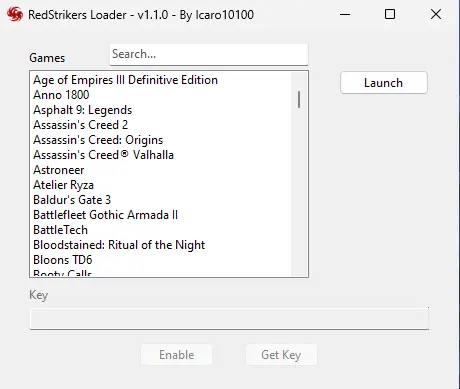 Index
Highfleet
Battle for survival in the skies of a mysterious future Earth in this unique action-strategy game mixing arcade combat, exploration, management and diplomacy. As giant flying ships wage spectacular aerial warfare, a prophecy tells of one who will save the world – could it be you?
Purchase key and Download
You can cancel your subscription at any time by clicking here.
Your key will be sent automatically to your email after completing the payment, check your spam folder.
Refund Policy: You can ask for a full refund within 72 hours of purchasing for any reason. Limited to 1 refund per client.
You will be able to use all cheats for all games in the loader for one month.
Credit/Debit Card or Crypto (BTC, USDT, ETH etc) payments are supported.
Price: $10 USD - Valid for 1 Month
Free Trial
You can request a free trial key that will be valid for two hours. Simply enter your email below and press the button, it has to be a GMAIL email address.
Functions
Highfleet Structure Dissect Override
Pointers
ProfileContainer
m_cash
m_scores
m_scores_expedition
m_scores_military
m_scores_survivors
m_char_fear
m_char_gerat
m_char_romani
m_char_faith
m_char_right
m_char_force
m_char_wealth
m_char_kindness
m_char_fear_val
m_char_gerat_val
m_char_romani_val
m_char_faith_val
m_char_right_val
m_char_force_val
m_char_wealth_val
m_char_kindness_val
Generate Ammo Types
Generate Stats
Populate Fleet Info
No Screen Darken During Boost
Inf Health
No Burn Damage
No Engine Overheat
Modify Damage Multiplier
Modify Thrust Multiplier
Set Enemies on Fire
Freeze Enemies
Inf Ammo
Inf Cash
Inf Parts
Inf Battle Fuel
Inf Expedition Fuel
Max Rest
Max Morale
How to use
You might need to disable Windows Defender or other antivirus software before downloading.
Extract the zip file you have downloaded.
Run the loader as administrator.
Enter your key and click Enable.
The loader will be ready for use, select one of the available cheats and click launch.
Cheat Engine will be opened with the cheats loaded.
Run the game and wait until it fully loads.
On Cheat Engine, click the screen icon on the top left corner and select the game's process.
Everything will be ready for use, select the desired functions on Cheat Engine and play.