This page is specifically about the Halo: The Master Chief Collection cheat, for the page about the loader, click here.
You can download Halo: The Master Chief Collection here.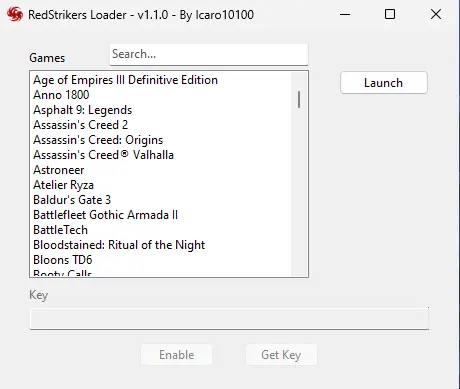 Index
Halo: The Master Chief Collection
The Master Chief's iconic journey includes six games, built for PC and collected in a single integrated experience. Whether you're a long-time fan or meeting Spartan 117 for the first time, The Master Chief Collection is the definitive Halo gaming experience.
Purchase key and Download
You can cancel your subscription at any time by clicking here.
Your key will be sent automatically to your email after completing the payment, check your spam folder.
Refund Policy: You can ask for a full refund within 72 hours of purchasing for any reason. Limited to 1 refund per client.
You will be able to use all cheats for all games in the loader for one month.
Credit/Debit Card or Crypto (BTC, USDT, ETH etc) payments are supported.
Price: $10 USD - Valid for 1 Month
Free Trial
You can request a free trial key that will be valid for two hours. Simply enter your email below and press the button, it has to be a GMAIL email address.
Functions
Lock Clip Ammo,Max Clip Ammo,Lock Belt Ammo,Max Belt Ammo,Lock Plasma Ammo,Max Plasma Ammo,Lock Plasma Heat,Lock Grenades,Max Grenades,Rapid Fire/Lock Ammo,Some Bullet Spread,No Bullet Spread,No Charge Up Delay,No Recoil,Full Auto,Receiving Damage Multiplier (can be edited),Teleportation (comes with 3 individual coordinate saves),Sprint (default bind is left shift. keybinds
sprint speed
and friction can be edited.),Autorun,Flight/Noclip (default keybinds are space to go up and alt to go down
keybinds and flight speed can be edited),Super Jump (jump strength can be edited),Noclip (for use with acrophobia),No Soft/Kill Barriers (for use with acrophobia),Stealth,EXTREME GAMEPLAY (For the EXTREME Spartan),Lock Health/Shields,Easily Killed,Receiving Damage Multiplier (can be edited),Skull Override (enabling will override existing skulls),Acrophobia,Anger,Bandana,Black Eye,Blind,Bonded Pair,Boom,Catch,Cowbell,Eye Patch,Famine,Foreign,Ghost,Grunt Birthday Party,Iron (can't be disabled),IWHBYD,Jacked,Malfunction,Masterblaster,Mythic,Piñata,Recession,So...Angry...,Swarm,That's Just...Wrong,Thunderstorm,Tilt,Tough Luck,Compact Mode,Speedhack x0.5,Speedhack x1,Speedhack x3,Auto Attach,Values
How to use
You might need to disable Windows Defender or other antivirus software before downloading.
Extract the zip file you have downloaded.
Run the loader as administrator.
Enter your key and click Enable.
The loader will be ready for use, select one of the available cheats and click launch.
Cheat Engine will be opened with the cheats loaded.
Run the game and wait until it fully loads.
On Cheat Engine, click the screen icon on the top left corner and select the game's process.
Everything will be ready for use, select the desired functions on Cheat Engine and play.