This page is specifically about the Ghostwire Tokyo cheat, for the page about the loader, click here.
You can download Ghostwire Tokyo here.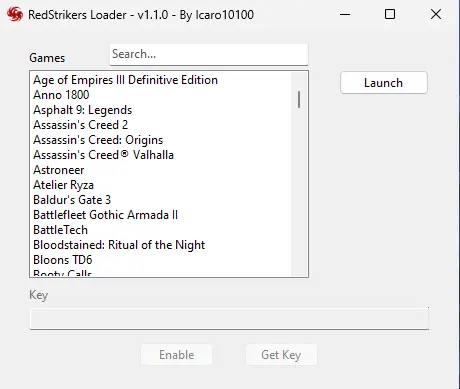 Index
Ghostwire Tokyo
Tokyo's population has vanished, and deadly supernatural forces prowl the streets. Use an arsenal of elemental abilities to unravel the truth behind the disappearance and save Tokyo.
Purchase key and Download
You can cancel your subscription at any time by clicking here.
Your key will be sent automatically to your email after completing the payment, check your spam folder.
Refund Policy: You can ask for a full refund within 72 hours of purchasing for any reason. Limited to 1 refund per client.
You will be able to use all cheats for all games in the loader for one month.
Credit/Debit Card or Crypto (BTC, USDT, ETH etc) payments are supported.
Price: $10 USD - Valid for 1 Month
Free Trial
You can request a free trial key that will be valid for two hours. Simply enter your email below and press the button, it has to be a GMAIL email address.
Functions
God Mode
One Hit Kill
Inf HP
Inf Resonance
Inf Ammo
Fast Charge
Fast Arrow
Stealth
Max Money on Spend
Inf Skill Points
Magatama Use
Inf Temp Buff
Inf Item Use
Always Perfect Block
Drop Rate for Items from Enemies
Multiplier
HP
Max HP
Base Max HP
Resonance
Resonance Max
Prayer Beads Equipped
Bead
Bead 2
Bead 3
Walk Speed Multiplier
Speed Multiplier
Jump Height Base
Jump Height Multiplier
Max Step Height
Coords
X
Y
Z
Fly with Collision
Fly
Movement Mode
Collision
Gravity
Level
XP
Headshot Kills
Quick Purge Kills
Spirits Transfered
Spirits Transfered Total
Spirits Captured
Spirits Captured Maximum
Equipped Weapon
Equipped Talisman
Temp Buff Type
Temp Buff Time Remaining
Bow Ammo Count
Bow Ammo Max
Fire Ammo Count
Fire Ammo Max
Wind Ammo Count
Wind Ammo Max
Water Ammo Count
Water Ammo Max
How to use
You might need to disable Windows Defender or other antivirus software before downloading.
Extract the zip file you have downloaded.
Run the loader as administrator.
Enter your key and click Enable.
The loader will be ready for use, select one of the available cheats and click launch.
Cheat Engine will be opened with the cheats loaded.
Run the game and wait until it fully loads.
On Cheat Engine, click the screen icon on the top left corner and select the game's process.
Everything will be ready for use, select the desired functions on Cheat Engine and play.