Para acessar a versão em português desse post, clique aqui.
This Trainer is for the GC Ernasis private server, for other servers, click here.
You can download Ernasis Online here.
RedStrikers Trainer Ernasis Online, v1.1.1 - 26/07/2022 see changes here.
Trainer working flawlessly, tested today: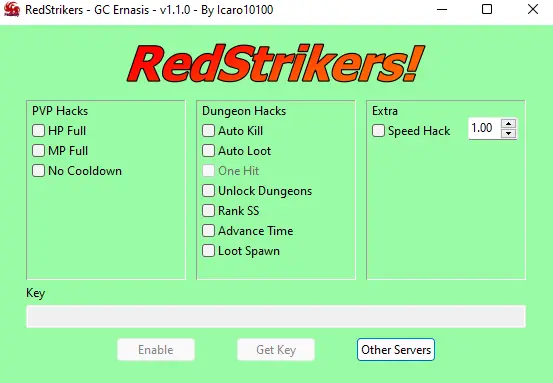 Purchase key and Download
You can either subscribe or buy a single key for one month.
Your key will be sent automatically to your email after completing payment.
The Ernasis Key will unlock all functions for Grand Chase Ernasis (Ernasis Online) only, the Global Key will let you use all hacks for all Grand Chase servers.
Credit card or Paypal payments are supported.
$7 USD Ernasis key - 1 Month
$12 USD Global Key - 1 Month
Videos
Functions
Auto Kill: Kill all dungeon monsters automatically, doesn't break the dimensional gate (Dungeon).
HP Full: Locks your HP, preventing you from dying (PVP and Dungeon).
MP Full: Locks your MP at 4 bars. (PVP and Dungeon).
No Cooldown: Removes the cooldown timer of skills (PVP and Dungeon).
One Hit: Kills monsters with one hit, use it on dungeons that auto kill doesn't work (Dungeon).
Unlock Dungeons: Unlocks all dungeons and continents regardless of your character's level (Dungeon).
Rank SS: Sets dungeon rank to SS, giving a 15% exp boost (Dungeon).
Auto Loot: Picks up all dungeon loot automatically (Dungeon).
Advance Time: Adds 20 minutes to the dungeon timer (Dungeon).
Loot Spawn: Makes all dungeon loot spawn in the first stage, use it and leave the dungeon before completing it or it will glitch at the end (Dungeon).
Speed Hack: Speeds up or slows down the game by the desired factor (PVP and Dungeon).
How to use
Before downloading, disable Windows Defender and any other antivirus software.
Extract the zip file you downloaded.
Start Grand Chase and wait until it loads to the select servers screen.
Run the file RedStrikers.exe as administrator.
Paste your key and press Enable.
The cheat will be ready for use, select the functions you want and play.
Contacts
Changelogs
1.1.1 26/07/2022
Fixed HP Full.
Fixed MP Full.
Fixed No Cooldown.
1.1.0 13/07/2022
Added Auto Loot.
Added Speed Hack.
Added Rank SS.
Added Loot Spawn.
Added Advance Time.
1.0.0 28/05/2022