Para acessar a versão em português desse post, clique aqui.
This Trainer is for Grand Chase Classic, for other GC servers, click here.
You can download GC Classic here.
RedStrikers Trainer, v2.3.4 - 25/08/2022 see changes here.
Trainer working flawlessly, tested today:
To avoid being banned with EXP Hack, click here.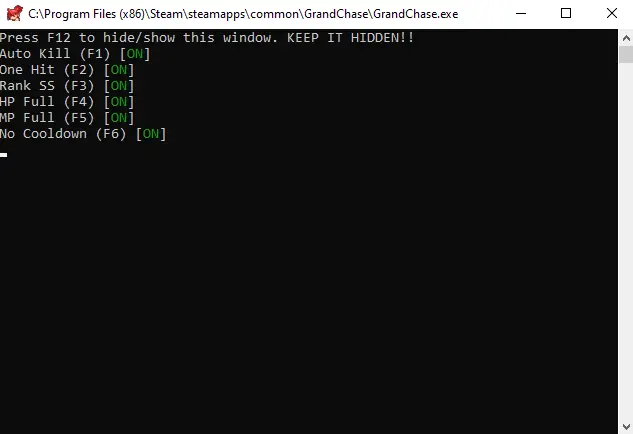 Purchase key and Download
You can either subscribe or buy a single key for one month.
Your key will be sent automatically to your email after completing payment.
The Classic Key will unlock all functions for Grand Chase Classic only, the Global Key will let you use all hacks for all Grand Chase servers.
Credit card or Paypal payments are supported.
$7 USD Classic key - 1 Month
$12 USD Global Key - 1 Month
Videos (In Portuguese)
Functions
Auto Kill: Kill all dungeon monsters automatically, doesn't break the dimensional gate (Dungeon).
HP Full: Locks your HP, preventing you from dying (PVP and Dungeon).
MP Full: Locks your MP at 4 bars. (PVP and Dungeon).
No Cooldown: Removes the cooldown timer of skills (PVP and Dungeon).
One Hit: Kills monsters with one hit, use it on dungeons that auto kill doesn't work (Dungeon).
Rank SS: Sets dungeon rank to SS, giving a 15% exp boost (Dungeon).
Auto Loot: Picks up all dungeon loot automatically (Dungeon).
Mouse Fly: Moves your character to your cursor's position (PVP and Dungeon).
Advance Time: Adds 20 minutes to the dungeon timer (Dungeon).
Loot Spawn: Makes all dungeon loot spawn in the first stage, use it and leave the dungeon before completing it or it will glitch at the end (Dungeon).
Item: Lets you use the selected items, can be set to use automatically or manually (press "n") (PVP and Dungeon).
Zoom Hack: Sets the game zoom to the desired value (PVP and Dungeon).
Speed Hack: Speeds up or slows down the game by the desired factor (PVP and Dungeon).
No Fall: Prevents your character from falling while in the air (PVP and Dungeon).
Air Spell: Lets you use skills while in the air (PVP and Dungeon).
Stage Switcher: Will automatically jump dungeon stages until you reach the boss, the value is the time in seconds to stay in each stage (Dungeon).
Combo Full: Sets your max combo to a high number to complete some tasks (Dungeon).
Skip Dialogs: Skips dungeon dialogs automatically (Dungeon).
Unlock Dungeons: Unlocks all dungeons and continents regardless of your character's level (Dungeon).
(EXP Hack) Monster Count: Changes the number of monsters spawned in Dimension's Door.
(EXP Hack) Spawn Delay: Changes the delay between monsters' spawn in Dimension's Door.
(EXP Hack) Monster Id: Changes the id of the monsters spawned in Dimension's Door.
(EXP Hack) Monster Level: Changes the level of the monsters in Dimension's Door to your character's level plus 15.
How to use
Before downloading, disable Windows Defender and any other antivirus software.
Extract the zip file you downloaded.
Start Grand Chase and wait until it loads to the select servers screen.
Run the file RedStrikers.exe as administrator.
Paste your key and press Enable.
The cheat will be ready for use, select the functions you want and play.
How to avoid being banned with EXP Hack on Grand Chase Classic
On Grand Chase Classic, using EXP Hack directly on your account, will result in it being automatically banned. To avoid this, you need to use two accounts following the method below.
Create a secondary steam account, to run two steam instances at once, follow one of the three methods below.
Enter the game with the secondary/fake account, start the cheat and create a room on dimension's door.
Login with your main account and enter the room you created before, but don't activate any hack (except Unlock Dungeons if needed).
Start the dungeon with the fake account with EXP Hack and Auto Kill enabled.
Your main account will receive EXP/Drops normally, but will not be banned.
Repeat the process with other characters, the fake account will be banned when you logout.
Contacts
Changelogs
2.3.4 25/08/2022
Fixed One Hit.
Fixed Mouse Fly.
Fixed Item Hack.
Fixed Air Spell.
2.3.3 24/08/2022
2.3.2 04/08/2022
Fixed One Hit.
Fixed (EXP Hack) Monster Level.
2.3.1 15/07/2022
Fixed HP Full.
Fixed Item Hack.
2.3.0 14/07/2022
Fixed (EXP Hack) Monster Level.
2.2.9 30/06/2022
Fixed a bug with Stage Switcher.
2.2.8 23/06/2022
2.2.7 07/06/2022
Auto Kill no longer destroys the dimensional gate when used with two players.
2.2.6 03/06/2022
EXP Hack fixed.
One Hit fixed.
Combo Full fixed.
Air Spell fixed.
No Fall fixed.
Mouse Fly fixed.
2.2.5 25/05/2022
Added support for the Global key that unlocks all Grand Chase Trainers.
2.2.4 12/05/2022
Fixed (EXP Hack) Monster Level.
2.2.3 25/04/2022
Fixed advance time.
Advance time now sets the timer to 15 minutes.
2.2.2 27/03/2022
Fixed mouse fly.
Fixed no fall.
No fall is now in the pvp hacks tab.
2.2.1 10/03/2022
VP Hack removed.
(EXP Hack) Monster Level fixed.
Auto Loot fixed.
2.2.0 09/03/2022
2.1.0 03/03/2022
EXP Hack changed, no longer has to install anything.
Added Unlock Dungeons function.
All previous EXP Hack functionality has been added as individual functions.
2.0.0 09/02/2022
Fixed No Fall.
Added EXP Hack.
1.9.8 14/01/2022
Fixed Auto destroying the dimensional gate.
Fixed Mouse Fly
Fixed Air Spell
Fixed One Hit
1.9.7 13/01/2022
Fixed Auto Kill (Tested until Ellia, if it fails on any dungeon, report to me on telegram).
1.9.6 13/01/2022
1.9.5 12/11/2021
1.9.4 25/10/2021
MP Full fixed.
Item Hack fixed.
Air Spell fixed.
1.9.3 24/10/2021
1.9.2 02/10/2021
1.9.1 29/09/2021
1.9.0 21/09/2021
Added Combo Full.
Added Skip Dialogs.
1.8.6 11/09/2021
1.8.5 10/09/2021
1.8.4 08/09/2021
1.8.3 19/08/2021
Fixed Auto Kill on dimension's door and several other dungeons.
Speed Hack reenabled.
Speed Hack maximum value increased from 100 to 1000.
1.8.2 18/08/2021
Fixed bugs on Auto Kill
One Hit reenabled.
1.8.1 18/08/2021
Updated to work on the new Grand Chase version.
One Hit temporarily removed.
Speed Hack temporarily removed.
1.8.0 14/08/2021
Added air spell.
Added stage switcher.
Item hack changed to let you use items automatically and now also allows to use multiple items at the same time.
Fixed mouse fly transporting other characters (visual bug).
1.7.0 11/08/2021
Auto Kill fixed.
Added speed hack.
Added no fall.
Mouse fly now works while being affected by a skill delay.
1.6.0 10/08/2021
One hit reenabled.
Added the zoom hack function.
1.5.0 09/08/2021
Fixed several bugs with the Auto Kill function.
Fixed No Cooldown function.
Mouse Fly function now let you choose whether to move the character on click or always.
Added Auto Loot function.
Removed Item Vac function as it's useless with Auto Loot.
Added Advance Time function.
Added Loot Spawn function.
Added Item function.
1.4.0 07/08/2021
Added the mp full function.
Added the no cooldown function.
Added the mouse fly function.
1.3.0 06/08/2021
Added the one hit function.
Added the rank ss function.
Added the item vac function.
1.2.0 05/08/2021
Trainer updated but only with auto kill enabled, other functions will be added soon.
1.1.1 04/08/2021
Updated only to fix some bugs, no new features have been added.

"invalid file name" bug fixed.
"unknown" bug when enabling the trainer should be fixed for most users.
1.1.0 02/08/2021
Added one hit kill function.
Added SS rank function.
The key is saved in a text file now so you don't have to enter it everytime you run the trainer.
1.0.2 01/08/2021
Fixed issue with auto kill sometimes destroying the dimensional gate.
1.0.1 01/08/2021
Auto kill doesn't kill the dimensional gate anymore, if you want to kill it, hit it once.