This page is specifically about the Dying Light cheat, for the page about the loader, click here.
You can download Dying Light here.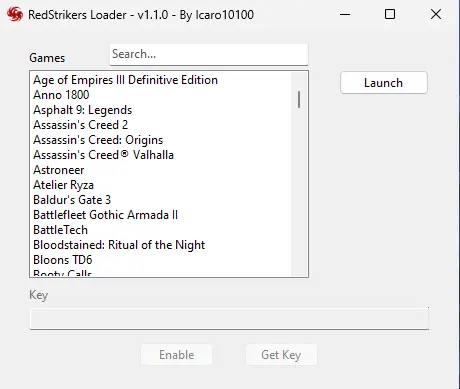 Index
Dying Light
First-person action survival game set in a post-apocalyptic open world overrun by flesh-hungry zombies. Roam a city devastated by a mysterious virus epidemic. Scavenge for supplies, craft weapons, and face hordes of the infected.
Purchase key and Download
You can cancel your subscription at any time by clicking here.
Your key will be sent automatically to your email after completing the payment, check your spam folder.
Refund Policy: You can ask for a full refund within 72 hours of purchasing for any reason. Limited to 1 refund per client.
You will be able to use all cheats for all games in the loader for one month.
Credit/Debit Card or Crypto (BTC, USDT, ETH etc) payments are supported.
Price: $10 USD - Valid for 1 Month
Free Trial
You can request a free trial key that will be valid for two hours. Simply enter your email below and press the button, it has to be a GMAIL email address.
Functions
Increase Multiplier
Decrease Multiplier
Instant Charge
Charge Multiplier
Disabled
Infinite Weapon Condition
Decrease Multiplier
Infinite Weapon Repairs
1 Handed Multiplier
2 Handed Multiplier
Fire Rate Multiplier
Multiplier
No Spread
No Recoil
Instant Bow Draw
Increased Camo
Infinite Camo
Fill Camo
Clear Camo
Invisible(ish) to Volatiles
Acceleration/Deceleration Multiplier
Delta Multiplier
Infinite Gas
Decrease Multiplier
Infinite Parts Condition
Infinite Vehicle Repairs
Nitrous Dec.
Nitrous Multiplier
Vehicle Equipment No Cooldown
Vehicle Equipment Duration Timer Dec.
Multiplier
Infinite Vehicle Flamethrower
No Vehicle Repair Requirements
Tolga's Folly No Cooldown
On
Easy Lockpicking
Weapons in Safe Zones
No Blueprint Requirements
Auto Trap Reset
Easy Action Taps
Easy Action Hold
Infinite
Decrease Multiplier
Instant Max. Level
Fill Health
Fill Combat Stamina
Fill Camo
Clear Camo
Fill Ammo
Repair Weapon
Reset Weapon Repairs
Charge Flash Light Battery
Charge UV Light Battery
+50 Rounds
+100 Rounds
+5,000 XP
Fill Gas
Fill Nitrous
Auto Table Updater
Auto Attach to Process
Simple Logger
Print Game Module Info
Print Game Module Version
Enable Compact Mode
Disable Compact Mode
Sync with Real Time
WayPoint Hook
Military Hours.
How to use
You might need to disable Windows Defender or other antivirus software before downloading.
Extract the zip file you have downloaded.
Run the loader as administrator.
Enter your key and click Enable.
The loader will be ready for use, select one of the available cheats and click launch.
Cheat Engine will be opened with the cheats loaded.
Run the game and wait until it fully loads.
On Cheat Engine, click the screen icon on the top left corner and select the game's process.
Everything will be ready for use, select the desired functions on Cheat Engine and play.