This page is specifically about the Dungeon Defenders Awakened cheat, for the page about the loader, click here.
You can download Dungeon Defenders Awakened here.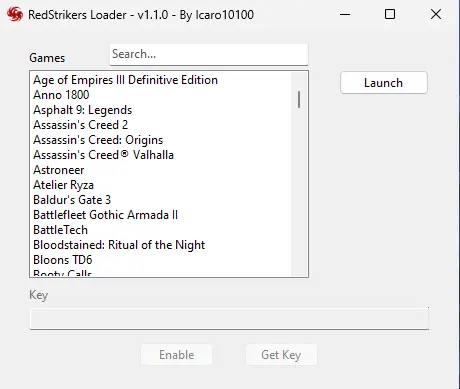 Index
Dungeon Defenders Awakened
Dungeon Defenders: Awakened is co-op Tower Defense combined with epic Action RPG combat. You're able to join forces with up to four players to take on a never-ending army of orcs, demons, and dragons! Are your defenses strong enough to save the world of Etheria?
Purchase key and Download
You can cancel your subscription at any time by clicking here.
Your key will be sent automatically to your email after completing the payment, check your spam folder.
Refund Policy: You can ask for a full refund within 72 hours of purchasing for any reason. Limited to 1 refund per client.
You will be able to use all cheats for all games in the loader for one month.
Credit/Debit Card or Crypto (BTC, USDT, ETH etc) payments are supported.
Price: $10 USD - Valid for 1 Month
Free Trial
You can request a free trial key that will be valid for two hours. Simply enter your email below and press the button, it has to be a GMAIL email address.
Functions
Player Name
Playerbase
Player HUD
Equiped Weapon
Weapon Damage
Weapon Damage Alt
Weapon Knockback
Weapon Elemental Damage
Weapon Crit Chance
Weapon Crit Bonus
Weapon Projectile Speed
Weapon Projectile Count
Weapon Reload Speed
Weapon Projectile Clip Size
Weapon Ammo
Weapon Block
Weapon Charge Rate
Weapon Attack Rate
Towers
Tower Dmg Bonus
FusionTowerTiers
Player Stats
Player Speed
Attack Rate
Damage Knockback (Effects Towers As Well)
Hero Casting Rate
Hero Crit Chance
Hero Crit Bonus
Ability One Dmg
Ability Two Dmg
Rift Armor
Rift Bonus Stat
Max Mana
Hero Bonus Projectile Count
Jump
Jump Max Count
Jump Current Count (Lock 0 for Inf Jump)
XP
Level
Skill Points
Unspent Stat Points
Mission
Stats
StartOnWave
CurrentWave
NumWaves
StartingWave
EnemiesRemainingInWave
EnemiesCurrentlyAlive
CurrentPhaseTimeRemaining
CurrentBossCountdownTimeRemaining
TotalEnemiesInWave
GearMaxQualityOverride
bIsGameWon
bIsGameOver
Crystal Health 1000M
Defence Units
Max Allowed Defense Units
Current Active Defense Units
Mana (Hit M To Update)
Set World Speed
Skill Level
Infinite Health
Infinite Mana
Green Gems
Rune Po
How to use
You might need to disable Windows Defender or other antivirus software before downloading.
Extract the zip file you have downloaded.
Run the loader as administrator.
Enter your key and click Enable.
The loader will be ready for use, select one of the available cheats and click launch.
Cheat Engine will be opened with the cheats loaded.
Run the game and wait until it fully loads.
On Cheat Engine, click the screen icon on the top left corner and select the game's process.
Everything will be ready for use, select the desired functions on Cheat Engine and play.