This page is specifically about the Deathloop cheat, for the page about the loader, click here.
You can download Deathloop here.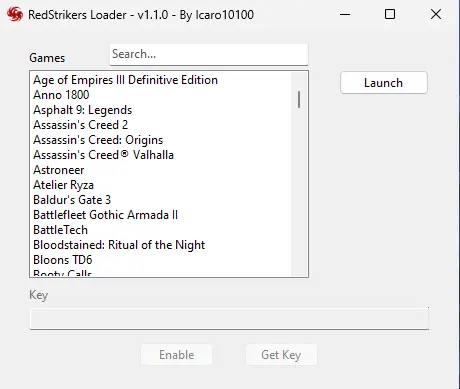 Index
Deathloop
DEATHLOOP is a next-gen FPS from Arkane Lyon, the award-winning studio behind Dishonored. In DEATHLOOP, two rival assassins are trapped in a mysterious timeloop on the island of Blackreef, doomed to repeat the same day for eternity.
Purchase key and Download
You can cancel your subscription at any time by clicking here.
Your key will be sent automatically to your email after completing the payment, check your spam folder.
Refund Policy: You can ask for a full refund within 72 hours of purchasing for any reason. Limited to 1 refund per client.
You will be able to use all cheats for all games in the loader for one month.
Credit/Debit Card or Crypto (BTC, USDT, ETH etc) payments are supported.
Price: $10 USD - Valid for 1 Month
Free Trial
You can request a free trial key that will be valid for two hours. Simply enter your email below and press the button, it has to be a GMAIL email address.
Functions
Pointers
arkPlayerController
Current Reprise
Max Reprise
arkCpntPlayerStateMachine
arkPlayerStateJumping
arkDeclPlayerStateJumping
Walk/Idle Jump Height
Sprint Jump Height
Crouch Jump Height
Second Jump Height
arkCpntPlayerPhysics
arkCpntPlayerProxy
X Position
Y Position
Z Position
arkPlayer
arkCpntPlayerIronSightJointsController
Sway Disabled
Sway Multiplier
arkCpntNavigation
arkCpntAttributes
Movement Speed Mult
Sprint Speed Mult
Look Sensitivity Mult
arkCpntMana
ManaBar
Section 1
Section 2
Section 3
Mana Regen Rate
arkCpntPlayerSensorHacking
arkCpntWaveMultiTool
arkDeclCpntWaveMultiTool
Hack Sphere Radius
arkCpntHealthEvolved
God Mode
Current Health
Max Health
Populate Inventory
arkLocalUserLocal
Residuum (In-Game)
Residuum (Infuse Menu)
Scripts
Inf Mana
Inf Reprise
Inf Ammo
Inf Residuum
Inf Double Jump
Modify Projectile Count
Multiplier
Modify Blink Distance
Multiplier
Modify Fire Rate
Multiplier
Super Accuracy
No Jam
No Recoil
No Aim Sway
No Spread Increase
Instant Hack
How to use
You might need to disable Windows Defender or other antivirus software before downloading.
Extract the zip file you have downloaded.
Run the loader as administrator.
Enter your key and click Enable.
The loader will be ready for use, select one of the available cheats and click launch.
Cheat Engine will be opened with the cheats loaded.
Run the game and wait until it fully loads.
On Cheat Engine, click the screen icon on the top left corner and select the game's process.
Everything will be ready for use, select the desired functions on Cheat Engine and play.