This page is specifically about the Captain of Industry cheat, for the page about the loader, click here.
You can download Captain of Industry here.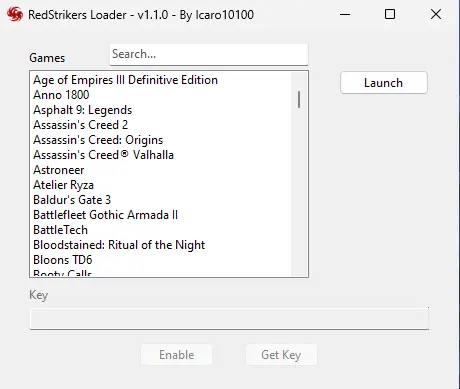 Index
Captain of Industry
Land your crew of survivors on an abandoned island and survive! Mine raw materials, grow food, build factories, manufacture products, research new tech, and trade with others. Become an industrial superpower! But this is no easy task, you will be put to the test to keep your settlement alive.
Purchase key and Download
You can cancel your subscription at any time by clicking here.
Your key will be sent automatically to your email after completing the payment, check your spam folder.
Refund Policy: You can ask for a full refund within 72 hours of purchasing for any reason. Limited to 1 refund per client.
You will be able to use all cheats for all games in the loader for one month.
Credit/Debit Card or Crypto (BTC, USDT, ETH etc) payments are supported.
Price: $10 USD - Valid for 1 Month
Free Trial
You can request a free trial key that will be valid for two hours. Simply enter your email below and press the button, it has to be a GMAIL email address.
Functions
Fast Crop Growth
Low Fertility Consumption
No Terrain Restrictions for Vehicles
Faster Vehicles
Faster Belts/Pipes
Can Build Them Higher than 3
Faster Sorters
Storage Buildings and Dock Modules Capacity
All Products Can Be Stored
No Radioactivity
Can Transport More at Once
Loads Saved Game with 32 Extra Ocean Chunks Giving a Lot of Space to Expand
Extra Map Chunks x8
Excavator Capacity x10
Excavator Mines More at Once
Cargo Ship Capacity x100
Food Store Capacity x10
Maintenance Buffer Capacity x10
Shipyard Capacity
Fleet Auto Repair/Refuel
Fleet Fast Movement/Exploration
No Enemy Ships
Fast Load/Unload
Auto Refuel
Returns Instantly from the World
Faster Research
Always Full of Water
World Mines Cheap and Fast
Auto Refuel Vehicles
Better Contracts
Better Quick Trade Offers
Output Buffer Cap x100
Faster Truck Dump and Some Excavator and Tree Harvester Operations
Instant Production in Machines
Infinite Ground Crude & Water Reserves
Throughput Fix for Pipe/Belt Connectors
Free/Instant Vehicles in Depot
Excavators Always Fill Trucks to Full Capacity
Fast Recycling
Fast Construction
Fast Deconstruction
Create/Destroy Product If Alert Qty <25% or >75% and Alert is Off
Trucks Have 10x Capacity
Don't Require Reservation of Ocean Tiles for Ships Coming to or Leaving the Dock
Fixes the Bug in Game that Docks Can't be Built on Extra Ocean Chunks
Unity is Never Removed Except for Cap Adjustments
Tree Harvesters Always Fill Trucks to Full Capacity
Diesel Generator Output x10
No Pollution
Always Enough Workers.
How to use
You might need to disable Windows Defender or other antivirus software before downloading.
Extract the zip file you have downloaded.
Run the loader as administrator.
Enter your key and click Enable.
The loader will be ready for use, select one of the available cheats and click launch.
Cheat Engine will be opened with the cheats loaded.
Run the game and wait until it fully loads.
On Cheat Engine, click the screen icon on the top left corner and select the game's process.
Everything will be ready for use, select the desired functions on Cheat Engine and play.