This page is specifically about the Astlibra Revision cheat, for the page about the loader, click here.
You can download Astlibra Revision here.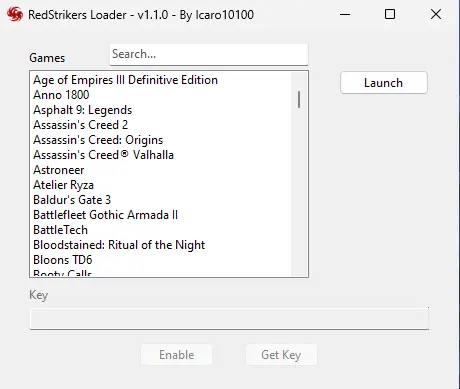 Index
Astlibra Revision
Confront time and fate in the 2D action RPG, Astlibra Revision. Explore meticulously crafted worlds, fight brutal boss battles, and upgrade your skills to take down enemies lurking around every corner.
Purchase key and Download
You can cancel your subscription at any time by clicking here.
Your key will be sent automatically to your email after completing the payment, check your spam folder.
Refund Policy: You can ask for a full refund within 72 hours of purchasing for any reason. Limited to 1 refund per client.
You will be able to use all cheats for all games in the loader for one month.
Credit/Debit Card or Crypto (BTC, USDT, ETH etc) payments are supported.
Price: $10 USD - Valid for 1 Month
Free Trial
You can request a free trial key that will be valid for two hours. Simply enter your email below and press the button, it has to be a GMAIL email address.
Functions
Infinite HP
Infinite ST
Infinite Item
Infinite Growth Crystal
Absorb Damage
Exp Multiplier
Money Multiplier
Damage Multiplier
Set Combo Count
OHK
Speed Hack
Speed Multiplied 0.5
Speed Multiplied 3.0
Value
Multiply
Combo
Turn On Script After Starting Demo
HP・ST・Coin
Current HP
Current ST
Coin
Status
Attack: Max
Defense: Max
Guard
Magic: Max
Luck: Max
Agility
Adaptability
Force
Fire
Earth
Water
Darkness
Wind
Holy
Rare Equipment
Red Bone Sword
Airget-Lamh
Silver Goblin's Hammer
Caduceus
Mage's Staff
Ascalon
the Dragon Slaying Sword
Fire Dagger
Gram
a Magical Sword
Colichemarde
Mistilteinn
Knight's Lance
Mjolnir
Dragon's Agit
Hauteclaire
Great Spirit's Staff
Balmung
Lion Shield
Tribal Shield
Phoenix Shield
Blue Silver Shield
Shield of Darkness
Radamantus
Dragon God's Shield
Anastasis
Champion's Armor
Elven Armor
Dark Mail
Nexagram
Armor of the Rightful King
Thanatos
Chronos
Soul Armor
Dragon Cup
Dragon Harp
Dragon Ring
Dragon Staff
Dragon Leather Shoes
Flower Ring
Dragoness Ring
Fire Dragon
Asuka (Flying Bird)
Berserk
Blaze
Heavenly Mountain
Stone Shield
Assassin
Circle of Disaster
Cold Bullet
Killer Shark
Turtle Shield
Mermaid Bubbles
Thunder Spear
Snow Princess Force
Thunderbolt
Swordflash
Wind Tiger
Silpheed
Random Hit
Whirlwind
Moonlight
Unicorn
Angel
Sword Waltz.
How to use
You might need to disable Windows Defender or other antivirus software before downloading.
Extract the zip file you have downloaded.
Run the loader as administrator.
Enter your key and click Enable.
The loader will be ready for use, select one of the available cheats and click launch.
Cheat Engine will be opened with the cheats loaded.
Run the game and wait until it fully loads.
On Cheat Engine, click the screen icon on the top left corner and select the game's process.
Everything will be ready for use, select the desired functions on Cheat Engine and play.