This page is about the Final Fantasy XV (Steam) cheat, for the page about the loader, click here.
Final Fantasy XV (Steam)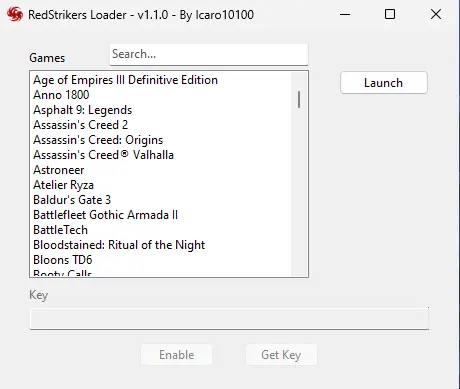 Purchase key and Download
You can either subscribe or buy a single key for one month.
Your key will be sent automatically to your email after completing payment.
You will be able to use all cheats for all games in the loader for one month.
Credit card or Paypal payments are supported.
Price: $10 USD - Valid for 1 Month
How to use
You might need to disable Windows Defender or other antivirus software before downloading.
Extract the zip file you have downloaded.
Run the loader as administrator.
Enter your key and click Enable.
The loader will be ready for use, select one of the available cheats and click launch.
Cheat Engine will be opened with the cheats loaded.
Run the game and wait until it fully loads.
On Cheat Engine, click the screen icon on the top left corner and select the game's process.
Everything will be ready for use, select the desired functions on Cheat Engine and play.
Functions
Infinite HP
One Hit Kill
Infinite MP
Infinite Tech Bar
Infinite Armiger
Infinite Dynastic Stance Duration
Infinite Stamina
Infinite Item Use
Infinite Elemental Energy
Infinite Spell Quantity
Unlock All Techniques
Ignore Recipe Ingredients
Infinite Fishing Line Durability
No Magic Cooldown
Reset Level
Exp Gained Multiplier
Exp Multiplier At Rest
Skill Exp Multiplier
Tech Exp Multiplier
Hunter Rank Pointers
Activate Summons
Instant Summons
Invoke Specific Summon
100% Alterna Hit Rate
Death Drain Multiplier
Max Damage Output For Ignis
Max Rage Output For Gladio
Max Clarity
Valor Mod
Bestiary Options
View Complete Bestiary
Complete Bestiary (Permanent)
Load Saved Wea/Acc Stats
Max QP
Freeze Regalia Test Drive Timer
Freeze TOD (Dependent On Cielos TOD Script)
Freeze TOD (NOT Dependent On Cielos TOD Script)
Gil/AP Pointers
Item Finder
Highlighted Weapon Pointers
Highlighted Accessory Pointers
Magic Editor
Meal Duration + Editor
Status Effect Editor
Infinite Status Effect Duration
No Negative Status Effects
Velocity Mods
Infinite Chocobo Stamina
Chocobo Sprint Speed Multiplier
Chocobo Glide Decent Rate
Chocobo Jump Height
Max Clarity
Freeze Score Attack Timer
Combo Never Resets
Status Effect Editor
Freeze Time Trial Timer
Full Demon Gauge
Can Always Execute Rising Phantom
Infinite Evade Duration
Infinite Double Jump
Combo Multiplier
Combo Doesnt Reset
Highlighted Weapon Pointers
Highlighted Chocobo Stats
Customize Stats Multipliers
Time Of Day Mod
Custom Guest Member Mod
Override Shop Item ID