This page is about the Booty Calls cheat, for the page about the loader, click here.
Booty Calls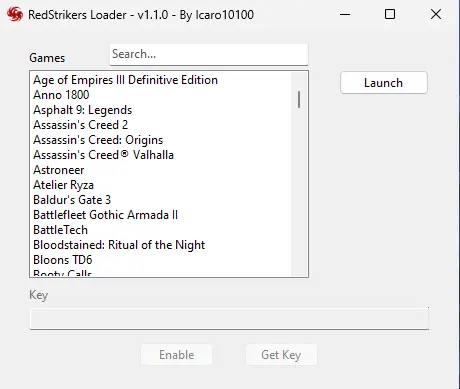 Purchase key and Download
You can either subscribe or buy a single key for one month.
Your key will be sent automatically to your email after completing payment.
You will be able to use all cheats for all games in the loader for one month.
Credit card or Paypal payments are supported.
Price: $10 USD - Valid for 1 Month
How to use
You might need to disable Windows Defender or other antivirus software before downloading.
Extract the zip file you have downloaded.
Run the loader as administrator.
Enter your key and click Enable.
The loader will be ready for use, select one of the available cheats and click launch.
Cheat Engine will be opened with the cheats loaded.
Run the game and wait until it fully loads.
On Cheat Engine, click the screen icon on the top left corner and select the game's process.
Everything will be ready for use, select the desired functions on Cheat Engine and play.
Functions
Infinite Energy: Energy won't decrease when talking or dating.
Infinite Adventure Energy: Energy in adventures won't decrease when talking.
Infinite Date Moves: Date moves won't decrease.
Adventure No Cooldown: Actions in adventures won't have any cooldown.
No Girl Fatigue: Girls won't get fatigued when talking.
No Date/Sex Fatigue: You'll be able to date girls all you want, they won't reject you.
Easy Dates: Just one move will make you complete the date.
Free Skills: All skills will cost 0.
Free Gift: All gifts will cost 0.
Free Personality Traits: All personality traits will cost 0.
Free Power-Ups: All date Power-Ups will cost 0.
Free Location Upgrades: Upgrades won't cost anything (Diamonds purchase, not materials.)
Free Sex Date Upgrades: Sex date upgrades won't cost anything.
Unlock All Girls: Unlock all girls. Enable the script, go on a date, and once it's finished, you'll unlock all girls.
Unlock All Messages + Images: Unlock all messages and their respective images. Enable the script, go in the phone tab, and it will automatically unlock everything.
All Locations Available: Unlock the requirements of all locations from the beginning.
Unlock Asa Akira NEW: Activated Asa Akira on the Steam version of the game. Enable the script before you go to the loading screen.
All Outfits are Available NEW: Makes all outfits be available even if not unlocked.
Locations Always Open: All locations will always be opened, no matter the time it is.
Free + Custom Multi Gacha Amount: Multi Gacha tickets will be free to cost and give you 100 rewards instead of 10.
Show Facts (Even if locked): Shows all girls facts, even if they are locked. This doesn't make the be unlocked, but visible.
Facts Require Nothing: Clicking talk will be enough to trigger the fact unlocking dialogue.
Free Skip Quests: Skipping quests will be free.
Auto Complete Event Quests: Make Event and Daily Quests redeemable. You won't need to do anything to complete them.
All Daily Chests Available + Infinite Use: All daily chests will be available, even if you didn't complete any quest, and you'll be able to redeem them infinitely.
+1000 Slots per Purchase: Any purchase to get more phone slots will add +1000 slots. One purchase is enough to see all images from the game.
Free Phone Upgrades: Phone upgrades will be free.
Get Current Girl: This will show some info about the girl you're talking to. Like, name, current location, current sex pose, current background, fatigue, and a couple more. BE CAREFUL CHANGING STUFF, OU'LL COMPLETELY BREAK YOUR SAVE.
Get Normal Quests: Show the info of 10 of your normal quests. Info like: Quest name, Conditions to complete the quest, rewards, and a couple of options. You can change the reward to whatever item or uantity that you desire, I don't have the name of every item, that's on you. You can change the condition to make it have none too. I'M NOT RESPONSIBLE FOR ANY KIND OF BAN THAT YOU MIGHT GET BECAUSE YOU GAVE YOURSELF MILLIONS OF DIAMONDS.
Get Location: Shows some info about the last clicked location. You can see the current girls in that location, the bonus reward object, and its interval.This is basically a way to easily get any item/girl from the game. Make sure you know what you're doing when changing the bonus reward. I'm not responsible for any kind of glitches or save corruption.
[Extra] ID Dumper NEW: Dumps every ID from the game, like items, garments, girls, types and any other kind of information. If you want to change the directory where it saves the dump files, do open the cript and there will be a brief explanation on top.